Tour Memories 
From Clay Kaufman '84
I remember the thrill of singing Ave Maria (Josquin des Prez) in St. Peter's Basilica at the Vatican–and having it carry so clearly that two Glee Club latecomers could hear us from the entrance as if we were right next to them.
I remember being exhausted halfway through the 5-week tour and riding the double-decker bus to our first day off at the beach Cassis and singing the Brahms' motet "O Heiland Reis" with the sole lyrics being "We want the beach" (it really scans!)
I remember trying to turn a corner on a tiny street in Marseille in our 55-passenger double-decker coach bus, and being stymied by a car parked too close to the corner. Our Italian bus driver pointed to about 6 of us (he spoke no English) and ordered us off the bus. He walked us over to the car and had us all lift the car off the road and put it on the sidewalk. We got back in the bus and turned the corner to continue on our way. I always wondered what the person who owned the car thought when he returned to his parking place and saw his car sitting on the sidewalk instead.
I remember singing in the Hapsburg's Winter Palace where Mozart played as a child, and performing in front of a sold-out crowd. After the concert, swarms of people came up to us asking for our autographs!
I remember being in Geneva and being told we were having dinner at the US Ambassador's house that evening. Being college students, we naturally decided not to spend any money on lunch that day and just gorge ourselves on dinner. By 4:30 pm we were starving, so we went over to the Ambassadors's house early, and rumors started flying that there was no dinner–just cocktails and hors d'oeuvres. So, again naturally, we situated ourselves right outside the kitchen door to grab all the hors d'oeuvres we could, until either common sense or Fenno stopped us. Of course, a few minutes later, the Ambassador's wife opened up the back room to reveal a meal beyond our wildest imaginations. Relieved, we had a wonderful dinner. During the dinner, the Ambassador's wife came up to the president of the Glee Club, who was eating a roast beef sandwich heaped with Guacamole. As she started to speak, a huge piece of Guacamole fell out of the sandwich headed to the gleaming white carpet. Not missing a beat, the Ambassador's wife stuck out her hand and caught the glob of Guacamole in mid-air, saving the rug. Our humble president could only mutter, "Nice catch."
From Sandra Davis Cashion '92
Two different pics with the same three ladies!  Right to left: Rachel (Cohen) Goldstein JE '92, Amy Marx BK '92, and Sandra L. (Davis) Cashion BK '92.  The picture of us with wheels and millstones was our first free day touring some of the seven hills of Rome – June 19th, 1990.  The reason I know is that back in 1990 it was cool to put your dates on your pictures (see orange numbers to the lower left hand side).  My memory is good but not THAT good!  :)  It was extremely hot, we had walked for hours, but we were extremely happy to be together and on tour.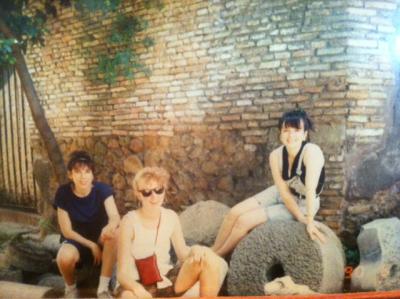 The second picture was en route to Italy on our very cushy train, which turned into a moving party for the YGC.  I like to call this picture #champagnemakesyouthinkyouarecharliesangels.  The legs in the jeans belong to Larry Goldberg '91.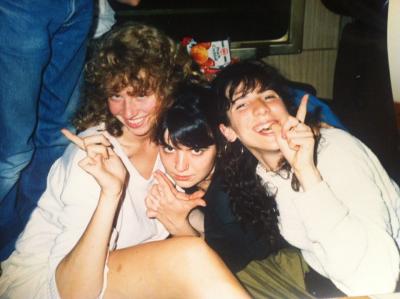 From Carl Kaestle '62
In the summer of 1961, YGC traveled to Latin America, about ten countries.  On an overnight  boat ride between Argentina and Ecuador, we had a very jolly dinner and party.  At one point, Bill Gross, a wonderful pratfall comic, got up and asked us to sing some song, as he was going to pay tribute to Fenno's conducting.  And then it funnier and funnier, everyone was in sticthes, including Fenno.  I was trying not to laugh, because I had had my appendix out in Chile and had just caught up with the club.  But I couldn't help myself.  At the finale, the imaginary baton kept going in larger and larger circles, until, at the last chord, Maestro "Heath" stabbed himself in the back.  Good sport, that Fenno. 
From Conner Fay '51
The pictures are from the YGC Spring 1951 tour to Cuba, Haiti, Dominican Republic and Puerto Rico. They are notable for showing both Marshall Bartholomew and Fenno Heath Barty's successor conducting on the tour. Fenno was conducting the Apollo Glee Club and came along as a back-up to Barty.