The Chamber Singers of the Yale Glee Club is a group of 18-24 singers who perform choral works primarily designed for a small ensemble. Their repertoire ranges from sacred music to madrigals to modern pieces. Selections from the repertoire are performed throughout the year at various Glee Club concerts. Membership is open to members of the Glee Club.
Ryan Rogers, conductor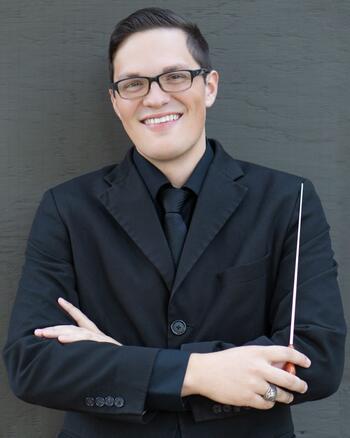 Ryan Rogers graduated summa cum laude from the University of Houston Moores School of Music in May 2018, majoring in Piano Performance and Choral Music Education, where he served as Director of Floreat, Student Director, and Tenor Section Leader under Dr. Betsy Cook Weber. At Moores, he studied piano with Dr. Tali Morgulis and voice with Zachery Averyt. Currently, Ryan is pursuing a Masters of Music in Choral Conducting at the Yale Institute of Sacred Music, where he studies with David Hill, André Thomas, and Jeffrey Douma.
At UH, he served as Tenor Section Leader for the Moores School Concert Chorale's world championships at the 2015 Grand Prix of Nations in Magdeburg, Germany, and the 2018 Béla Bartók International Choir Competition in Debrecen, Hungary. In addition to his service as Director of Floreat, he sang in two other student-directed a cappella ensembles at Moores, Men of Moores and Ardore.
After completing his undergraduate, Ryan served as an Assistant Choir Director at North Shore Senior High School until 2021, where he directed all five choirs at the North Shore Ninth Grade Campus as well as the Chamber Choir and the show choir, Perfect Harmony, at North Shore Senior High. During his tenure as a Texas music educator, his ensembles never received below a superior rating (I) at UIL evaluations and Madrigal Festival competitions.
Ryan matriculated to the Yale University Institute of Sacred Music in Fall 2021 and is presently based in New Haven, Connecticut. At Yale, he performs with the Yale Schola Cantorum, the Yale Camerata, Yale Recital Chorus, Battell Chapel Choir, and Marquand Chapel Choir. Ryan currently directs the Yale Repertory Chorus along with other first-year Choral Conducting graduate students. 
In addition to teaching and curricular work, Ryan is involved with numerous performing ensembles, including the San Antonio Chamber Choir, performing with them at the 2013 National ACDA Conference in Dallas, Texas, and the 2014 TCDA Conference in San Antonio, Texas. He returned as a guest collaborative pianist with the ensemble for "I Got Rhythm…North Meets South" with the TCU Chorale in April 2019. As a collaborative pianist, Ryan also performed for the 2013 Cactus Pear Music Festival Young Artist Program and the 2015 Saarburg International Chamber Music Festival in Saarburg, Germany. Ryan performed frequently with the Piping Rock Singers, Chorus Angelorum, and Bach Society Houston, traveling to perform with the latter ensemble for the 2017 Leipzig Bach Fest. While the program was canceled due to the COVID-19 pandemic, Ryan was selected as a conductor for the renowned 2020 Norfolk Choral Conducting Workshop with Simon Carrington. During the pandemic, he began editing audio for virtual performances, assembling in excess of two hundred hymns, anthems, and songs for various universities, schools, churches, and organizations throughout the country. In his free time, Ryan enjoys running, singing with friends, arranging, and recording his own compositions.