The Chamber Singers of the Yale Glee Club is a group of approximately 24 singers who perform choral works primarily designed for a small ensemble. Their repertoire ranges from sacred music to madrigals to modern pieces. Selections from the repertoire are performed throughout the year at various Glee Club concerts. Membership is open to members of the Glee Club.
Andrew Liu, conductor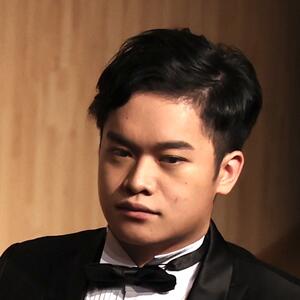 Andrew Liu is a conductor, organist, flautist, and composer who is currently pursuing a master of music degree in choral conducting at Yale University. He earned a BA in music at the University of Oxford, UK, graduating with first-class honors. While at Oxford, he was organ scholar at Hertford College, serving as conductor and accompanist for Hertford College Chapel Choir. As an organist, he was a prize-winning recipient of the Associateship Diploma of the Royal College of Organists (ARCO) in 2018 and is hoping to take the fellowship examination (FRCO) in the near future. His past conducting teachers include David Hill, Steven Grahl, and James Morley Potter, and he is currently studying under Jeffrey Douma. Liu is also an avid composer and has recently been commissioned to compose music combining Chinese and Western instruments for Yao Yueh Chinese Music Association and Hong Kong Legends Chamber Orchestra (Hong Kong, China). He is currently enjoying the opportunity of working with such excellent choirs, outstanding colleagues, and distinguished faculty at Yale, all of which is preparing him well for a career in church music.