The Yale Glee Club is one of the world's most traveled collegiate choruses.  It has appeared before enthusiastic audiences in every major US city and abroad on six continents.
In recent seasons, the Glee Club has traveled to Chicago, New York, Philadelphia, New Orleans, Dallas, Houston, San Francisco, Florida, Hawaii, Sweden, Denmark, Germany, the Czech Republic, France, Spain, Turkey, Cuba, China, South Africa, England, and Scotland.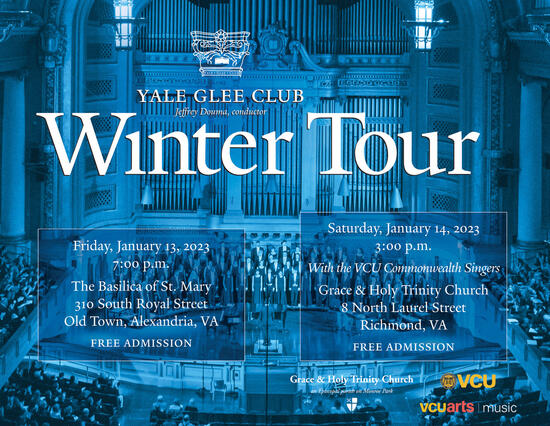 2023 Winter Tour
Washington DC/ Richmond VA
Friday, January 13, 2023 - 7:00 p.m.
The Basilica of St. Mary
310 South Royal Street
Old Town, Alexandria, VA
free admission
Saturday, January 14, 2023 - 3:00 p.m.
With the VCU Commonwealth Singers
Grace & Holy Trinity Church
8 North Laurel Street
Richmond, VA
free admission