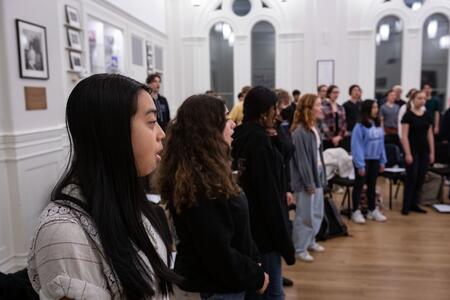 We sing a broad spectrum of great choral music from the 16th century to the present, including Renaissance motets, newly commissioned choral works, world folk music, traditional college songs, and the great choral orchestral masterworks.
---
Tour Repertoire
Gaudeamus Igitur, Traditional Student Song
I.
"Have Ye Not Known?" and "Ye Shall Have a Song" from The Peaceable Kingdom, Randall Thompson
II. 
 Lingua Tonga, Shruthi Rajasekar (World Premiere)
Ten piedad de nosotros, Ismael Huerta (World Premiere)
Psalm 86, Udi Perlman
If I Were a Swan, Kevin Puts
III. 
All-Night Vigil (Movts. 3, 14, 15), Sergei Rachmaninoff
Requiem Brevis (Lux aeterna), Jonathan Bailey Holland
IV.
Go Down 'n the Valley and Pray, André Thomas
Lao rahal soti, Samih Choukeir
Kaisa-isa Niyan, Nico Alcala
The Increasing Light, Traditional Shaker Melody arr. Jeffrey Douma
V.
'Neath the Elms, Traditional Student Song arr. Jonathan Clune
Eli Yale, Traditional Student Song
Raise Your Voices Here, Jeffrey Douma
Football Medley, Various Composers arr. Fenno Heath
Bright College Years, Henry S. Durand arr. Robert Bonds
Extended Works
Symphony No. 3, Gustav Mahler (with Yale Philharmonia)
Messiah, George Frideric Händel
Te Deum, José Maurício Nunes Garcia (with Yale Camerata)
War Requiem, Benjamin Britten (with Yale Symphony Orchestra)