Photos (click on photo to enlarge, right click to download)

THE YALE GLEE CLUB

JEFFREY DOUMA, DIRECTOR
Ensemble Biography:
From its earliest days as a group of thirteen men from the Class of 1863 to its current incarnation as a 85-voice all-gender chorus, the Yale Glee Club, Yale's principal undergraduate mixed chorus and oldest musical organization, has represented the best in collegiate choral music.
In recent seasons, the Glee Club's performances have received rave reviews in the national press, from The New York Times ("One of the best collegiate singing ensembles, and one of the most adventurous…an exciting, beautifully sung concert at Carnegie Hall") to The Washington Post ("Under the direction of Jeffrey Douma, the sopranos - indeed, all the voices - sang as one voice, with flawless intonation…their treacherous semitones and contrapuntal subtleties became otherworldly, transcendent even").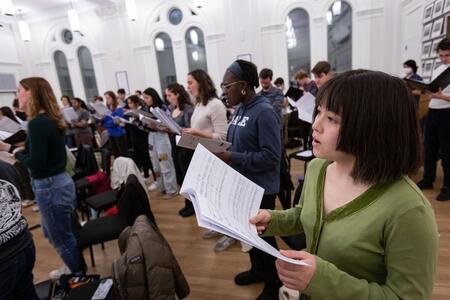 The students who sing in the Yale Glee Club might be majors in Music or Biology, English or Political Science, Philosophy or Mathematics. They are drawn together by a love of singing and a common understanding that raising one's voice with others to create something beautiful is one of the noblest human pursuits.
A broad spectrum of great music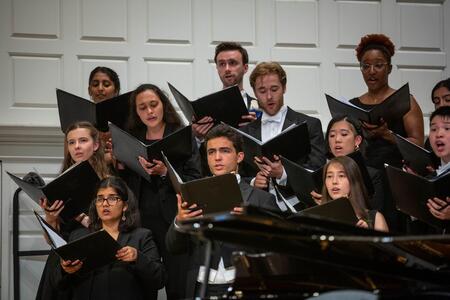 The Glee Club's repertoire embraces a broad spectrum of music from the 16th century to the present, including motets, contemporary works, music from folk traditions throughout the world, and traditional Yale songs. Committed to the creation of new music, the Glee Club presents frequent premieres of newly commissioned works and sponsors two annual competitions for young composers. They have been featured on NPR's Weekend Edition, WQXR's "The Choral Mix," and BBC Radio 3's "The Choir."
Choral orchestral masterworks are also an important part of the Glee Club's repertoire; recent performances include Verdi Requiem, Mozart Requiem,  Stravinsky Symphony of Psalms, Shaw Music in Common Time, Orff Carmina Burana, Vaughan Williams Dona Nobis Pacem, Bernstein Chichester Psalms, Britten War Requiem and Cantata Misericordium, Fauré Requiem, Haydn Missa in Tempore Belli, Missa in angustiis, and Creation, Brahms Ein deutsches Requiem, Nänie, and Schicksalied, Mendelssohn Elijah, Penderecki Credo, Aaron Jay Kernis Symphony of Meditations, Purrington Words for Departure, and choral symphonies of Mahler and Beethoven.
One of the most traveled collegiate choruses in the world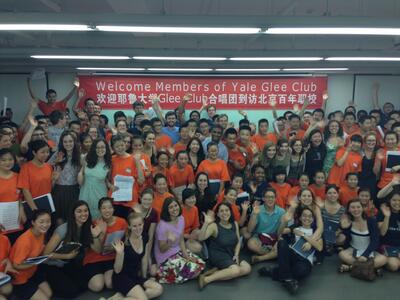 One of the most traveled choruses in the world, the Yale Glee Club has performed in every major city in the United States and embarked on its first overseas tour in 1928. It has since appeared before enthusiastic audiences throughout North and South America, Europe, Asia, Australia, and Africa. 
Bringing musicians of the world together
Historically a leading advocate of international choral exchange, the Glee Club has hosted countless guest ensembles at Yale and at New York's Lincoln Center in conjunction with its own international festivals.  In 2012, the Glee Club carried this tradition forward with the first Yale International Choral Festival in New Haven, and in June of 2018 presented the third incarnation of the festival, hosting choirs from Sri Lanka, Mexico, Germany, and New York City, along with the Yale Alumni Chorus and Yale Choral Artists.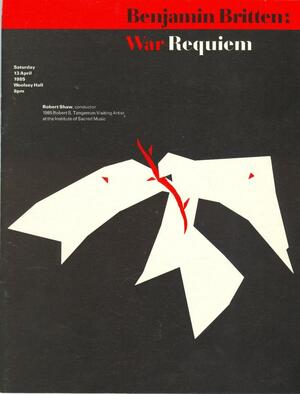 The Glee Club has appeared under the baton of many distinguished guest conductors from Leopold Stokowski to Robert Shaw. Recent collaborations have included performances under the direction of Marin Alsop, Grete Pedersen, Matthew Halls, Sir David Willcocks, Krzysztof Penderecki, Sir Neville Marriner, Dale Warland, Nicholas McGegan, Stefan Parkman, Simon Carrington, Erwin Ortner, David Hill, Craig Hella Johnson, and Helmuth Rilling.
The Yale Glee Club has had only seven directors in its 162-year history and is currently led by Jeffrey Douma. Previous directors include Marshall Bartholomew (1921-1953), who first brought the group to international prominence and who expanded the Glee Club's repertoire beyond college songs to a broader range of great choral repertoire; Fenno Heath (1953-1992), under whose inspired leadership the Glee Club made the transition from TTBB chorus to mixed chorus; and most recently David Connell (1992-2002), whose vision helped carry the best traditions of this ensemble into the twenty-first century.