Welcome! 
Dear Class of 2026,
Congratulations and welcome to Yale! We are so excited to meet you and to share our experiences as members of the Yale Glee Club. On this page, we've tried to answer your most pressing questions about YGC, including: what is the Glee Club? Is it like the TV show? Should I audition? (It's a choir, not really, and yes!) 
You'll also find greetings and testimonials from some of our current members. Together, we represent forty different majors, fourteen residential colleges, four class years, and a variety of musical backgrounds. We are united by our love of singing, and by the friendships we've made through Glee!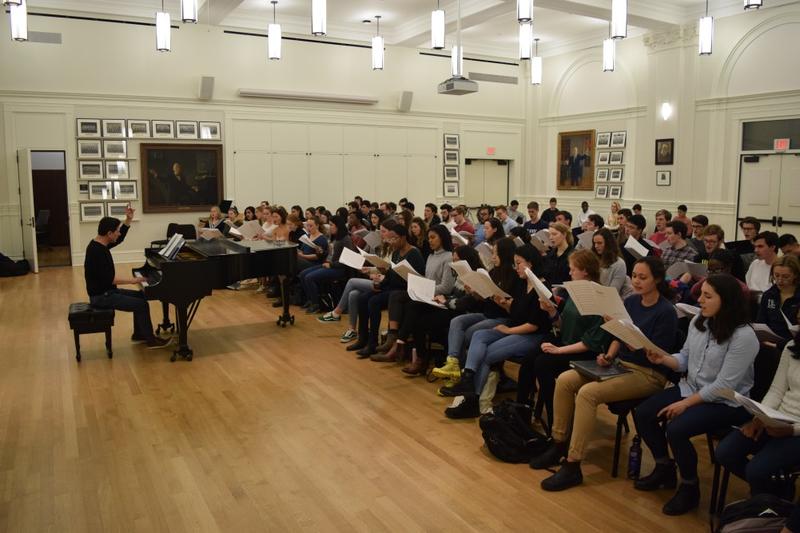 About Us
The Yale Glee Club is Yale's principal undergraduate mixed chorus and oldest musical organization. Originally a group of thirteen men from the class of 1863, today we number over eighty members and are open to all genders. Our repertoire includes large choral orchestral masterworks, contemporary choral music (including frequent premieres of newly commissioned works), folk music of the world, and much more. We are led by our faculty conductor, Jeffrey Douma, and our leadership also includes a large and enthusiastic group of student officers. 
In normal times, we rehearse twice a week, Monday and Wednesday evenings from 7-9pm, and have several on campus performances over the course of each semester. Annual tours are also an important part of what we do - recent trips have taken us to South Africa, Mexico, and the UK. Our tours are heavily subsidized by the Glee Club, and additional financial aid is available to all members, so member needs to miss a tour for financial reasons.
The vast majority of our members are able to balance multiple extracurricular interests, including membership in a cappella or other singing groups. We hope that the Glee Club will enrich, and not limit, your Yale experience! Because of the unusual nature of the Fall 2021 semester, we anticipate that the weekly time commitment will be even more manageable.
To hear from current members firsthand about their experiences in the YGC, click here!
And to listen to past recordings and watch videos of previous performances, click here and here!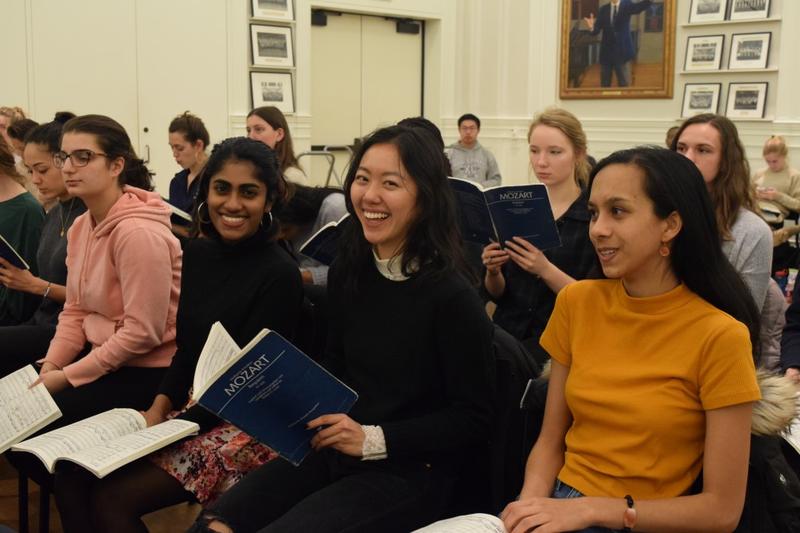 Auditions 
Check our audition page during the summer for more information, dates, and sign-ups, and check our news page for our audition information sessions and office hours. 
We look forward to meeting you!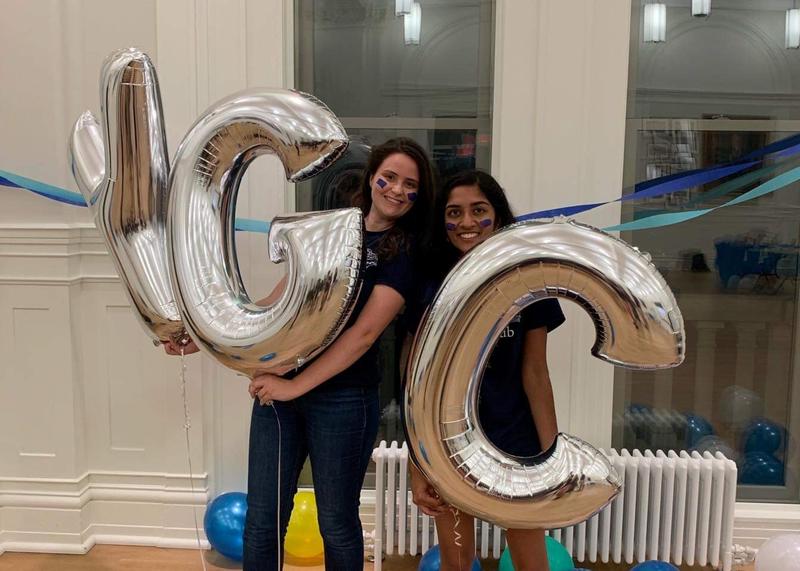 Contact Us
Have a question about Glee Club? Please write to us! We would love to hear from you.
Jeff Douma, Director: jeffrey.douma@yale.edu
Aria Falcone '22, President: aria.falcone@yale.edu
Sarah Grube '22, Manager: sarah.grube@yale.edu

FAQs
Do I have to be a music major to be in the Glee Club?
No - although some of our singers are people who major in music and anticipate careers in music, the large majority of our members are not majoring in music, and we represent pretty much any and all majors at Yale. 
Do I need choral singing experience to be in the Glee Club? 
No - our membership represents a full spectrum of choral singing experience, from people who have been singing in choirs their entire lives to others who are trying it for the first time. We strongly encourage everyone to audition!
What is the time commitment like?
In a normal semester, the main regular time commitments are our rehearsals, Mondays and Wednesdays from 7-9 PM. We perform in 4-5 concerts per semester, and travel domestically and internationally on two tours a year during breaks. Members are expected to attend every rehearsal, concert, and event–but the vast majority of people find this very manageable, and Glee Club is not meant to take over your life!
So can I be in Glee Club and also do a cappella, or other musical extracurriculars?
Yes! We have members every year who are also in a cappella groups. It's a lot of singing, but if that's what you want, it's totally possible. YGC members also participate in lots of other music groups on campus–from orchestras, bands, and instrumental ensembles, to opera, to playing or singing in musical theatre productions, and much more!
How important is the sight reading portion of the audition? 
If you are not a confident sight reader, please don't panic! Strong sight reading can help your audition, but it is only one part of the overall audition, nor is it the only factor in determining membership. Our goal is to make the audition process as low-stress as possible.
Are there opportunities to conduct or to sing in a smaller group through Glee Club? How about voice lessons? 
If you're interested, there are lots of additional musical opportunities available through YGC! We have two student conductors each year, as well as a program to fund voice lessons for Glee Club members. The Glee Club Chamber Singers, a group of around 20 singers from within YGC, rehearse and perform music designed for a smaller ensemble throughout the year.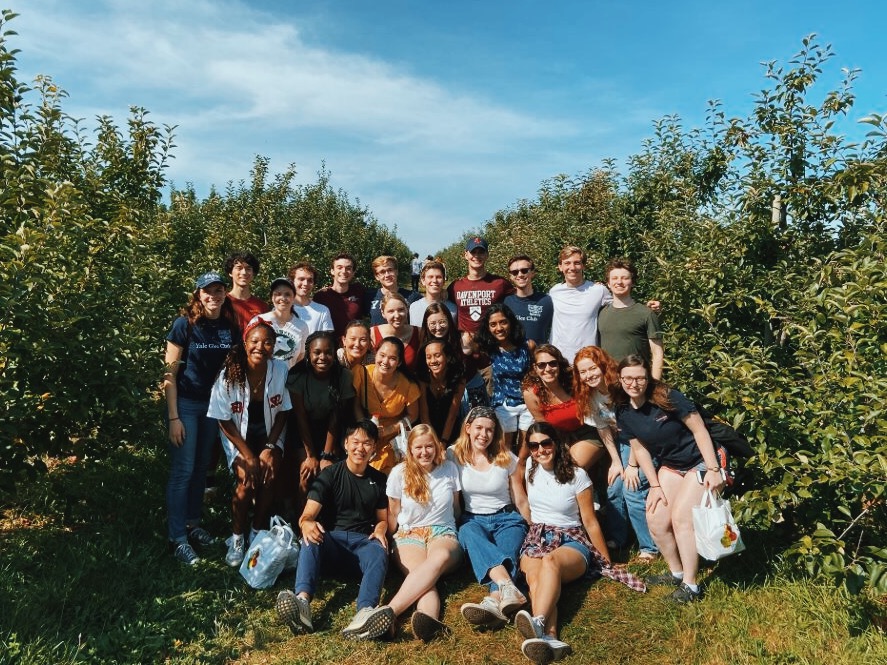 Want to learn more? 
Check out our social media: 
https://facebook.com/yalegleeclub/